Mini Wild Salmon and Spinach Turnovers
1 can Crown Prince Natural Skinless & Boneless Pink Salmon, drained and flaked
1/4 cup finely chopped onion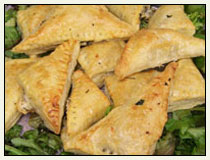 3 cloves garlic, minced
1 tablespoon olive oil
1 10 ounce package frozen chopped spinach, thawed and well drained
1 1/2 cups shredded pepper jack cheese
1 teaspoon salt
1/2 teaspoon black pepper
2 17.3 ounce boxes frozen puff pastry dough, thawed
1 egg, beaten
Preheat oven to 400°F. Sauté onion and garlic in olive oil until tender. Remove from heat. Stir in salmon, spinach, cheese, salt and pepper. Set aside and let cool.

On a lightly floured surface, roll out puff pastry dough and cut into 2 1/2" squares. Place 1 tablespoon filling mixture in the center of each square. Brush edges with egg and fold each square in half, forming a triangle. Seal the edges, brush tops of puff pastry with egg and place on a greased baking sheet. Bake for 15-20 minutes, or until golden brown. Serve warm. Yields 48.

NOTE: Baked turnovers may be frozen. Reheat unthawed turnovers at 400°F for 10 minutes.
Per Serving: 271 Calories (166 Calories from Fat), 19g Fat, 7g Protein, 19g Carbohydrate, 18mg Cholesterol, 295mg Sodium

Print Recipe
Share on Facebook