Oysters
| | |
| --- | --- |
| Smoked Oysters are naturally smoked, and are of uniform size and color. As one of the largest importers of smoked oysters in the world, we are able to source only the highest quality of oysters available. Each and every production code is pre-approved prior to shipment. This ensures that our high quality standards are maintained. | Boiled Oysters are packed in water using only whole oysters. As with our Smoked Oysters, we pre-approve all production codes prior to shipment. These Boiled Oysters have a clear, clean appearance and taste without any sand or grit. Try Boiled Oysters in stews and chowders. |
---
Smoked Oysters with Red Chili Pepper

Naturally wood smoked; hand packed in cottonseed oil with red chili pepper
Contains 0.92g omega-3 per serving
Excellent source of protein and iron
Available in 3-ounce BPA-free cans with pull-top lids
From managed fisheries, Product of China
In spite of careful inspection procedures, occasional shell fragments may be present. The occasional green appearance in oysters is natural and not considered harmful. Refrigerate after opening.

   
Click icons for larger images


---
Smoked Oysters in Cottonseed Oil

Naturally wood smoked; hand packed in cottonseed oil
Contains 0.92g omega-3 per serving
Excellent source of protein and iron
Available in 3-ounce BPA-free cans with pull-top lids
From managed fisheries, Product of China
In spite of careful inspection procedures, occasional shell fragments may be present. The occasional green appearance in oysters is natural and not considered harmful. Refrigerate after opening.

   
Click icons for larger images
---
Cocktail Smoked Oysters in Cottonseed Oil

Naturally wood smoked pieces of oysters; hand packed in cottonseed oil
Contains 0.92g omega-3 per serving
Excellent source of protein and iron
Available in 3-ounce BPA-free cans with pull-top lids
From managed fisheries, Product of China
In spite of careful inspection procedures, occasional shell fragments may be present. The occasional green appearance in oysters is natural and not considered harmful. Refrigerate after opening.

   
Click icons for larger images
---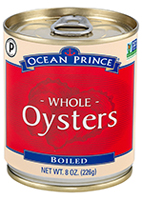 Packed in water
Contains 100 mg omega-3 per serving
Good source of protein; Low fat
Available in 8-ounce BPA-free cans
From managed fisheries, Product of South Korea or China
In spite of careful inspection procedures, occasional shell fragments may be present. The occasional green appearance in oysters is natural and not considered harmful. Refrigerate after opening.
Click icons for larger images