Jalapeños Stuffed with Tuna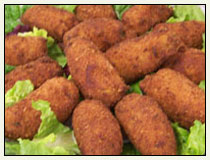 1 can Crown Prince Natural Yellowfin Tuna, drained and flaked
24 whole jalapeños
8 ounces cream cheese, softened
24 slices American cheese
2 cups milk
4 eggs
8 ounces bread crumbs

Trim stems from jalapeños and make a slit lengthwise creating a pocket. Remove seeds, rinse and set aside. In a bowl, mix softened cream cheese with tuna, then stuff inside jalapeños. Wrap a slice of cheese around each jalapeño and set aside.

Combine milk and eggs. Dip jalapeños in egg wash and roll in bread crumbs. Repeat by dipping jalapeños in egg wash and rolling in bread crumbs a second time. Deep fry until golden brown. Serve hot. Serves 12.

NOTE: Serve with ranch dressing.

HELPFUL HINT: Use foodservice gloves while working with jalapeños.
Per Serving: 279 Calories (104 Calories from Fat), 12g Fat, 20g Protein, 23g Carbohydrate, 103mg Cholesterol, 813mg Sodium

Print Recipe
Share on Facebook