Tuna Alfredo Pasta
1 12 ounce can Crown Prince Natural Albacore Tuna, drained and flaked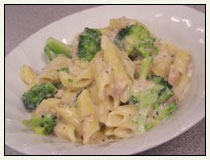 16 ounces penne or rotini pasta
20 ounces broccoli, cut into bite-size pieces
3 tablespoons unsalted butter
2 cloves garlic, minced
3 tablespoons all-purpose flour
2 cups 2% low fat milk
1/4 teaspoon ground nutmeg
1/3 cup shredded Parmesan cheese
1 teaspoon black pepper, freshly ground
Cook pasta according to package directions, adding the broccoli for the last 5 minutes of the cooking time.
Meanwhile, melt 1 tablespoon of butter in a large nonstick skillet over medium-high heat. Add tuna and garlic; cook for 2 minutes. Transfer to a bowl and set aside. Melt remaining butter, add flour and cook, stirring for 1 minute. Whisk in milk and nutmeg. Bring to a gentle boil and stir 3-4 minutes until thickened. Stir in tuna mixture.
Drain pasta, reserving 3/4 cup cooking water. Return to pot; add reserved water, sauce, cheese and pepper. Toss to mix. Serves 6.

Print Recipe
Share on Facebook