Spicy Crab Quesadillas
2 cans Crown Prince Natural Lump White Crab Meat, drained and flaked
1 large onion, coarsely chopped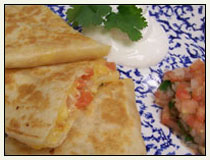 2 cloves garlic, chopped
1 tablespoon chili oil
2 tomatoes, chopped
1 tablespoon chopped fresh cilantro
salt and black pepper to taste
2 tablespoons unsalted butter
8 10-inch flour tortillas
8 ounces shredded Mexican blend cheese (cheddar and Monterey jack)
In a large skillet on medium heat, cook the onion and garlic in chili oil until the onions are soft. Add the crab meat, tomatoes, cilantro, salt and pepper. Cook, stirring for about 10 minutes, then remove from heat. Drain juices and transfer crab mixture to a bowl.

Over medium-low heat, warm about 3/4 teaspoon butter in a skillet. Place one tortilla in the skillet over melted butter and sprinkle cheese over half. Add the crab and tomato mixture over cheese, then top with more cheese. Fold the tortilla in half and cook until golden. Flip tortilla and cook until heated through. Remove from skillet. Repeat with remaining tortillas. Serves 8.

NOTE: Serve warm with salsa and sour cream.
Per Serving: 332 Calories (126 Calories from Fat), 15g Fat, 12g Protein, 40g Carbohydrate, 34mg Cholesterol, 616mg Sodium

Print Recipe
Share on Facebook