Shrimp Salad Stuffed Tomatoes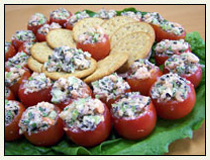 2 cans Crown Prince Tiny Shrimp, drained and rinsed
1 stalk celery, diced
1/4 cup minced fresh basil
10 pitted black olives, diced
1 medium shallot, minced
2 tablespoons mayonnaise
1 tablespoon white wine vinegar
black pepper to taste
16 large cherry tomatoes
Combine shrimp, celery, basil, olives, shallot, mayonnaise, vinegar and pepper in a medium bowl. Set aside.

Carefully hollow out the inside of each tomato using a melon baller or small spoon. Fill each tomato with the shrimp mixture. Serves 4.

NOTE: Shrimp Salad can also be served on top of crackers.
Per Serving: 60 Calories (19 Calories from Fat), 2g Fat, 7g Protein, 3g Carbohydrate, 73mg Cholesterol, 261mg Sodium

Print Recipe
Share on Facebook