Seafood Fiesta Salad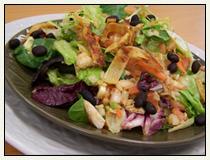 2 cans Crown Prince Tiny Shrimp, drained and rinsed
2 cans Crown Prince Lump White Crab Meat, drained and rinsed
1 envelope taco seasoning, divided in half
1/2 cup plus 3 tablespoons olive oil, divided
1 small onion, finely chopped
6 cloves garlic, minced
3 tablespoons red wine vinegar
2 tablespoons diced green bell pepper
1/2 teaspoon ground coriander
1/4 teaspoon sugar
3 6-inch corn tortillas, cut into 1/4-inch strips
1 8 ounce package ready to serve salad greens
1 medium tomato, chopped
1 8 ounce can black beans, drained and rinsed
2 cups finely shredded Colby-Jack cheese

Sprinkle shrimp and crab meat with half of the taco seasoning; set aside.
In another bowl, combine 1/2 cup oil, onion, garlic, vinegar, bell pepper, coriander and sugar; set aside.

In a skillet, stir-fry tortilla strips in remaining oil; drain on paper towels. Sprinkle with remaining taco seasoning.

In a large bowl, combine salad greens, shrimp, crab meat, tomato, beans and tortilla strips. Drizzle with dressing. Sprinkle with cheese and toss to combine. Serves 8.
Per Serving: 355 Calories (206 Calories from Fat), 23g Fat, 21g Protein, 16g Carbohydrate, 132mg Cholesterol, 941mg Sodium

Print Recipe
Share on Facebook