Panko Crusted Chili Oysters
1 can Ocean Prince Smoked Oysters with Red Chili Pepper,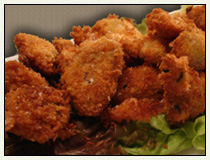 drained and red chili pepper removed
1 large egg, lightly beaten
1/2 cup all-purpose flour
1 teaspoon cayenne pepper
Salt and pepper to taste
1 cup Panko bread crumbs
1-2 cups vegetable oil for frying
Heat 1-2 cups of vegetable oil in a small skillet over medium heat. Meanwhile, dip the oysters, one at a time into egg, then into flour mixture, back into egg, then into Panko bread crumbs; place on a plate. Do this for all oysters. Once the oil is hot gently drop in the coated oysters. Allow oysters to brown before turning over. Once completely brown transfer the oysters to a plate lined with paper towels. Allow to cool slightly before serving.

Serves 1-2.

Print Recipe
Share on Facebook