Green Goddess Dip
1/2 jar Crown Prince Natural Flat Anchovies, drained
1/3 cup refrigerated or frozen egg product, thawed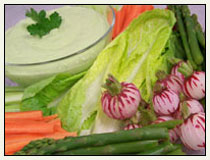 3 tablespoons lemon juice
2 teaspoons Dijon mustard
1 clove garlic, minced
1 cup canola or vegetable oil
1 cup loosely packed fresh parsley leaves
1/4 cup loosely packed fresh tarragon leaves
1/4 cup snipped fresh chives
2 green onions, sliced
4 ounces cream cheese, cubed and softened
1/4 cup tarragon vinegar
In a large food processor or blender, combine the egg product, lemon juice, mustard and garlic. Cover and pulse until combined. With the processor or blender running, add oil in a thin, steady stream. (When necessary, stop and scrape down sides of blender.) Add anchovies, parsley, tarragon, chives and green onions. Pulse until blended. Add the softened cream cheese and vinegar and pulse to combine.
Yields 2 1/4 cups. Serves 10.

NOTE: Any leftover dip may be stored in the refrigerator for up to 1 week. Serve with vegetable dippers such as baby romaine lettuce leaves, asparagus spears, celery, carrot sticks or radishes.
Per Serving: 247 Calories (230 Calories from Fat), 26g Fat, 2g Protein, 2g Carbohydrate, 14mg Cholesterol, 179mg Sodium

Print Recipe
Share on Facebook