Curried Cashew, Apple and Tuna Salad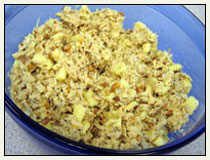 1 12 ounce can Crown Prince Natural Albacore Tuna, drained and flaked
2 small apples, peeled, cored and chopped
1/4 cup mayonnaise
salt and black pepper to taste
1/4 cup chopped cashews
1 teaspoon curry powder

Combine the first four ingredients and set aside.
Place the cashews in a small skillet. Stir over medium heat for 1 to 2 minutes until the nuts are fragrant and golden. Add the curry po and stir for 30 seconds, or until the cashews are well-coated. Add to the tuna mixture and mix well. Serves 4.

NOTE: Serve on a bed of salad greens, stuff into a pita pocket, or load on top of a bagel.
Per Serving: 171 Calories (77 Calories from Fat), 9g Fat, 12g Protein, 14g Carbohydrate, 19mg Cholesterol, 172mg Sodium

Print Recipe
Share on Facebook