Ingredients:
1 can Crown Prince Anchovies, drained and finely minced

1/3 cup olive oil

2 onions, finely chopped

3 cloves garlic, minced

1/2 teaspoon chili flakes, or to taste

6 large ripe tomatoes, diced

1 3.5 ounce jar of capers in brine, drained and rinsed

1 15 ounce can pitted black olives, drained and sliced

3 tablespoons chopped fresh parsley

16 ounces spaghetti, cooked according to package directions

salt and black pepper to taste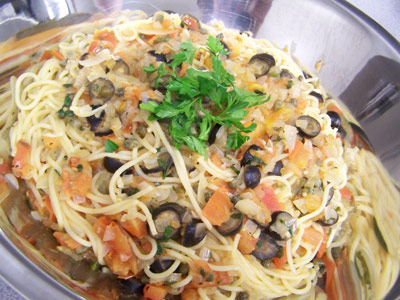 Directions:
Heat the oil in a large saucepan. Add onions and cook until tender. Stir in garlic, chili flakes, tomatoes, capers and anchovies and simmer over low heat for 5-10 minutes, until thick and pulpy. Add the olives, parsley and cooked pasta and mix well. Season with salt and pepper and serve immediately.

Serves 6.

NOTE: Serve with garlic bread or a fresh tossed salad.