Ingredients:
2 cans Crown Prince Boiled Baby Clams, drained and rinsed

2 bottles clam juice

1/2 pound bacon, coarsely chopped

1 medium red onion, chopped

3 stalks celery, chopped

4 tablespoons unsalted butter

1 cup all-purpose flour

2 cups chicken broth, divided

4 cups 2% low fat milk

12 ounces white cheddar cheese, shredded

1 tablespoon hot pepper sauce

1 tablespoon Worcestershire sauce

1/4 teaspoon salt

1/4 teaspoon black pepper

sliced green onions or chives for garnish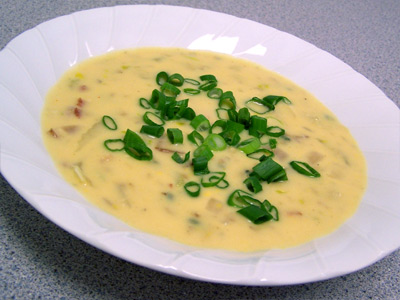 Directions:
In a large deep pot, cook bacon on medium heat for 5 minutes. Stir until lightly browned. Add onion, celery and butter. Sauté until onion is softened, about 5 minutes. Add flour and cook stirring constantly for 4 minutes on medium heat. Whisk in clam juice and half of the chicken broth and boil for one minute. Reduce heat and simmer for 15 minutes. Stir occasionally. Add milk and continue to simmer for 15 minutes - do not boil. Remove from heat. Stir in cheese, clams, hot pepper sauce, Worcestershire sauce, salt, pepper and remaining chicken broth. Stir until the cheese is melted and the soup is smooth. If the soup is too thick, add some warm milk. Serve soup hot, garnished with scallions or chives.

Serves 10.